Our approach is holistic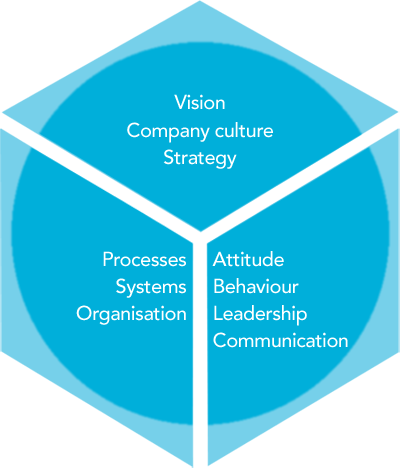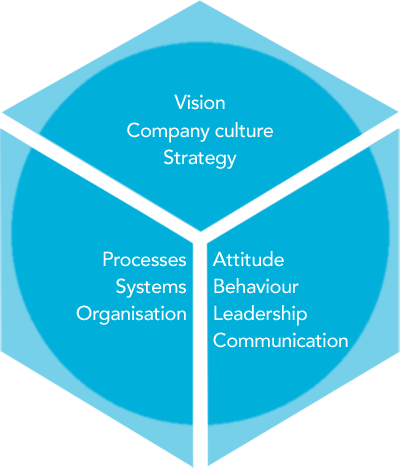 Spectacular methods and superb promises?
Standard surveys in order to safeguard past measures?
None of that with us!
We work out the answers to today's questions conjointly with you.
We point out opportunities for change.
Open and explicit, clear standpoints and tailor-made strategies, which we work out collaboratively on par with you.
A business is more than just an arrangement of structures and operational procedures.
It is a sensitive system.
All of its sub systems interact.
All parties involved affect one another.
This is why our approach is a holistic one:
Winning people over
for lasting change
Partner for Professional Change Management
kfu is an internationally active business consultancy based in Lahr-Reichenbach/Black Forest. For 20 years we have designed holistic change and development processes. For medium sized companies as well as for global players.
In German, English and/or French.
On all levels of your business. In cooperation with you and your employees.
Our goal: Your success.
Our competency: Designing and implementing changes.
We look forward to our joint projects with you.

We are enthused and experienced professionals
We know what moves you in your work.
Benefit from our more than 20 years of experience in industry and management.
A practical and pragmatic approach, professional expertise and a great sense for realism – this is what kfu stands for.
Our customers sense that:
We share the same belief. We are on the same wavelength.
kfu also offers
Seminars and off-site meetings close to our home in beautiful Black Forest.
Room for people and fresh ideas.
Time to allow you and your team to get to the bottom of issues that concern you.
Key principles that are important to us
Identifying existing issues first. Starting the change process afterwards.
What is already good the way it is? What should be different?
And what is the right way that will get us there?
We take a deep look into your business, we listen actively.
The basis of our collaboration is a clear picture as to your current situation, your business environment, your position in the market.
This creates security.
Focusing on what's most important.
During the next step we jointly work out concrete strategies and solutions. We help you define your goals and implement changes sustainably in the everyday life of your business.
Our guiding principle: Doing the right things the right way.
Providing orientation.
True changes require the participation of ambitious employees. Personal contact is important to us. Trust is only possible through open dialogue and honest communication.
This is why we involve managers and employees right from the start, winning them for new ideas: Acceptance right from the beginning.
Be it realignment, reorganization, process optimization or professionalization – change management only works where it has been understood and accepted by employees. Identification is the basis to responsible actions and initiative.
This is what strengthens the business.

Why kfu
You want to lead your business successfully and reliably.
You are facing important strategic issues.
You are considering to better position your product and service offer in the market.
You are planning to increase your competitiveness.
You want to save costs and optimize processes.
You know that having motivated employees is crucial to success.
Conjointly with you and your team we identify opportunities and constraints.
We coach high-class strategy and strategy implementation consultancy processes using ways that best suit you.
Every project is unique as each business is different.
We see the big picture even in situations where we are focusing on details.
We guarantee an extensive and honest performance.
We take the people in your business on a journey toward change.